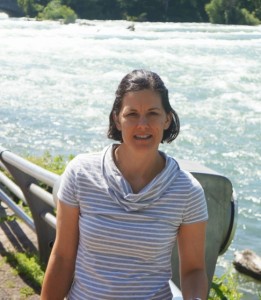 Biography
Gina is a Ph.D. Candidate in the Department of Geography and Environmental Engineering at Johns Hopkins University. She holds the Environment, Energy, Sustainability and Health Institute (E2SHI) Jenniches fellowship. She also is a trainee in the Water, Climate, and Health IGERT program. She earned a B.S. in Biological Systems Engineering from Virginia Tech, with a concentration in Land and Water Resources. She also earned a M.S. in Management of Technology from Vanderbilt University. While at Vanderbilt, she worked as a Research Assistant for the US-Japan Center for Technology Management, where she researched environmental management and programmed a software tool for environmental lifecycle decision making. This research included a two month internship at Isuzu Motors in Fujisawa, Japan, where she performed lifecycle analysis on automotive painting systems.
Gina has 14 years experience in environmental and water resources engineering. She worked for three years at Designers & Planners, Inc. in Arlington, Virginia, where she analyzed new Navy shipboard waste management technologies and managed and updated a tool to estimate costs associated with shipboard waste disposal. She also worked for 12 years at Duffield Associates, Inc., in Wilmington, Delaware where she served as a project engineer and project manager in the Water Resources Division. Her projects at Duffield Associates involved floodplain management, flood risk analysis, stormwater management, hydrologic and hydraulic modeling, permitting, and water quality monitoring.
Statement of Purpose
Gina's research interests lie at the intersection of water resources and systems engineering and include risk analysis, data analysis, and sustainability as they apply to natural hazards and water resources.  She is also interested in impacts of climate change to water resource systems and natural hazards.  Through her work as a water resources engineer, she gained an appreciation for the complexity associated with water resources decision-making, and the ongoing need for enhanced tools and methods to evaluate risk associated with natural and environmental hazards. She is interested in developing more accurate and adaptive models to help decisionmakers cope with increasingly complex water resources issues.  Her dissertation research focuses on enhanced risk analysis for weather-related natural hazards using data analytics and agent based modeling.
Research Interests:
Data analytics and statistical analysis
Risk analysis
Sustainable water resources management
Flood mitigation and floodplain management
Impacts of climate change on water resources and natural hazards
Publications:
Tonn, G., Guikema, S. Watershed Characteristics as Risk Factors for Unexpected Flood Frequency. Submitted to Journal of the American Water Resources Association. [under review]
Tonn, G., Guikema, S., Ferreira, C, Quiring, S. Hurricane Isaac: A Longitudinal Analysis of Storm Characteristics and Power Outage Risk. Submitted to Risk Analysis. [under review]
Conference Presentations:
"Frequency of Extreme Streamflow Events in the Mid-Atlantic". American Water Resources Association Annual Meeting, November 2014, Tysons Corner, VA.
"A Longitudinal Analysis of the Drivers of Power Outages During Hurricanes: A Case Study with Hurricane Isaac". Probabilistic Safety Assessment and Management PSAM 12, June 2014, Honolulu, HI.
"Hurricane Isaac Power Outage Analysis". Society for Risk Analysis Annual Meeting, December 2013, Baltimore, MD.
Field Experience:
IGERT Ethiopia Capstone Class: interviewed farmers about climate change impacts and soil and water management issues; visited health clinics, universities, farms, and villages to observe and discuss issues pertaining to water, climate and health
IGERT Chesapeake Bay Capstone Class: performed water quality sampling and spectrometer measurements (August 2013)
New Castle County, DE National Pollutant Discharge Elimination System (NPDES) project: performed wet weather sampling and illicit discharge investigations (20012007)
Education:
Johns Hopkins University: Ph.D. Candidate in Geography and Environmental Engineering
Johns Hopkins University: M.S. in Engineering in Geography and Environmental Engineering
Vanderbilt University: M.S. in Management of Technology (Thesis: A Comparison of Life Cycle Assessment in the U.S. and Japan with an Example in Automotive Painting)
Virginia Tech: B.S. in Biological Systems Engineering (concentration in Land and Water Resources Engineering)
Certifications:
Registered Professional Engineer (PE) in Delaware
Certified Floodplain Manager (CFM)
Leadership in Energy and Environmental Design Accredited Professional (LEED-AP)
Outreach Activities
Elementary School Science Olympiad Coach – 5th grade Mystery
Architecture, Estimation, and Number Puzzles events, Immaculate Heart of Mary School (January – April 2014)
Co-Leader – Chesapeake Bay Girl Scout Troops 643 (2009-present) and 1215 (2014-present)
Reviewed elementary school STEM curriculum units on the Chesapeake Bay and on Oil Spills for the STEM Achievement in Baltimore Elementary Schools (SABES) program (June 2013)
Science class demonstration on global warming and sea level rise – Western High School, Baltimore, MD (February 28, 2013)