August 14, 2015
Ben Zaitchik Featured on "People Behind the Science" Podcast
Ben Zaitchik was interviewed as a featured scientist for the popular podcast "People Behind the Science," a show designed to inspire current and future scientists, share the different paths to a successful career in science, educate the general population on what scientists do, and show the human side of science. Click to listen to the interview
Dear WSE faculty and staff,
I am pleased to share with you the news that Grace Brush of the Department of Geography and Environmental Engineering has been named a Fellow of the Ecological Society of America. Celebrating its centennial this year, the ESA is the nation's largest professional society devoted to the science of ecology.
This honor recognizes Grace's significant work on the pre- and post-Colonial ecology of the Chesapeake Bay and her groundbreaking studies that have helped scientists and geographers better understand the impact that extensive clearing of the forests surrounding the Bay have on the ecosystem there.
I know you will join me in congratulating Grace on this richly deserved honor.
Sincerely,
Ed Schlesinger
Benjamin T. Rome Dean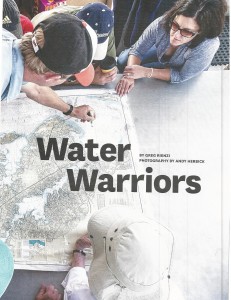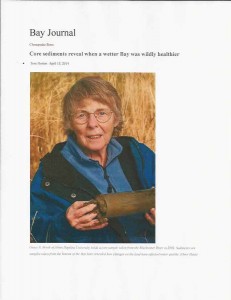 Ramya Ambikapathi has received the following honors and awards:
Harry J. Prebluda Fellowship in Nutritional Biochemistry 2014
Departmental Travel Award to Experimental Biology, 2014
Global Health Established Field Placement: Summer 2013 Grant recipient
Chris Kelley has received the following awards:
P3 (People, Prosperity, Planet) grant awarded by EPA for work on a low-cost inline turbidimeter
Established the Rotary Turbidimetry Fellowship in contributions from local Rotary chapters
1st place in the Hopkins Social Innovation Lab entrepreneurial startup competition
Abell Award in Urban Policy
The Abell Award in Urban Policy is given annually to the student who authors the most compelling paper that analyzes a serious policy problem facing the City of Baltimore and proposes feasible solutions. The contest is intended to encourage fresh thinking about the challenges facing Baltimore City. The Selection Committee decides on the allocation of the $5,000 award.
The 2016 winners were Co-authors: Christopher Kelley, PhD Candidate at the Johns Hopkins University's Department of Geography and Environmental Engineering, and Ramya Ambikapathi, PhD Candidate at the Johns Hopkins University Bloomberg School of Public Health Department for their paper, "Litter-Free Baltimore: A trash collection policy framework based on spatial analysis and social media."